Dave Bollingers Pixel Robots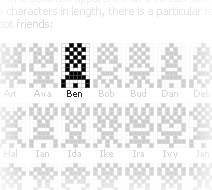 I love pixel art, and these little pixel robots are a very cool form of computer generated art. The image on the right shows a computer generated robot using my name (Ben) as the random seed – the starting point for the code.
Generating art with computers is quite a cool thing to do. I have attempted it in the past and whilst I had a small amount of success I never approached the creativity of Dave Bollinger who created these wonderful little characters.
When I found these I thought they were really nice but looking through Dave's list of work you can see that he isn't short of cool projects. I like a lot of the things he has done, including pixel spaceships.
Having now gone through his pieces of work I would say that my favorites are Cubicles, Maze blur (which has similarities with Tron blur), and Box fit. They're all worth a look though
Ben is a lifelong Nintendo fan who also likes to build websites, and develop games. He also buys way too much Lego.