The Harry Potter post I made when I finished reading the Half Blood Prince has been way more successful than I had imagined it would be. In fact I didn't even consider it would be different to any other normal post I make - it was written simply because I enjoy the books. However the post ended up getting ranked 2nd on Google for Harry Potter RAB (it's not any more), RAB being one of the big mysteries of the sixth book, and the hits to my site came flooding in. I'm currently at just under 140 comments and I should think it will grow a bit more yet.
It's all died down now but I did have a small panic about the amount of traffic I was getting, and hurriedly installed a page caching plugin that stops the server from having to do so much work.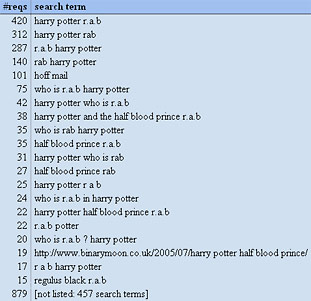 How did this happen though? I suspect it's something to do with the way the site is laid out. When I was designing Binary Moon I decided to stick the content of the site at the top of the page code. This is a lot more common amongst standards based design. Using web standards to separate the style from the content keeps the visual code in a separate file making the overall page size nice and small and brings the actual readable content to the forefront of the code which is what the search engines appear to love.
You can see, from the screen grab on the right, that the search engine queries people have been using to find my site are pretty biased towards that Potter boy, although the Hoff has managed to just about hang in there.
Normally when I read the Potter books I spend a few days thinking, on and off, about what might happen in the next book and what all the secrets mean. Since the last Harry Potter post was so popular, and since so many people offered differing views, I'm thinking about looking into these theories a bit more and writing a more about Potter and his chums. Worry not though, I'll still be posting the usual boring nonsense as well
Update: Wow - now this post is on the 1st page of Google searches for Harry Potter RAB - I wonder where the new Harry Potter RAB conspiracy theories will end up?
Share This...