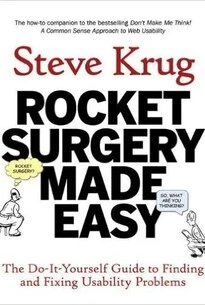 Author Steve Krug
Disclosure: This post may include Amazon affiliate links. I may earn a commission if you make a purchase through these links. It comes at no extra cost to you. Thank you!
Rocket Surgery Made Easy is a book written by Steve Krug, aimed at helping anyone who wants to improve their website or app usability through user testing. The book provides practical guidance and step-by-step instructions on how to conduct effective and affordable usability tests, even if you have little time, budget, or experience.
Key Points
Usability testing doesn't have to be complex or expensive. With the right approach and tools, anyone can do it.
The book emphasizes the importance of involving real users early in the design process to identify potential issues before they become costly problems.
It provides a detailed framework for planning and conducting usability tests, including recruiting participants, creating realistic tasks, moderating sessions, and analyzing results.
The author emphasizes the value of simplifying the process as much as possible to make it accessible to everyone, even those without a background in research or design.
Readers will learn valuable tips and techniques for getting actionable feedback from users and making improvements based on their insights.
The book includes real-world examples and case studies that illustrate how usability testing has helped organizations improve their websites and apps.
About the Author
Steve Krug is a renowned expert in usability testing and web design. He is widely known for his best-selling book "Don't Make Me Think," which revolutionized the way people think about website usability. With over 20 years of experience in user research, Krug has helped numerous companies create user-friendly experiences. His straightforward approach and practical advice make his books highly accessible to both beginners and professionals in the field.
I score this book 5 moons: 🌕🌕🌕🌕🌕