About 5 months ago my Mum started using Ebay, she asked me to take some photos that she could use to show off what she was trying to sell – which I did. Problem was they were massive, I always take my photos at the highest size my camera supports (4/5 mega pixels, can't remember exactly and too lazy to find out) and uploading a 3+ meg photo that will then be shrunk to 400 x 400 is pretty pointless, so I would go in cropping and scaling the photos.
To start with it was ok, the odd picture here or there, but when she started doing 20 photos at a time it took longer and longer to do. Also, me being busy (erm… lazy) meant she also had to wait for me to edit the photos. I decided it would be easier for everyone if she could edit the pictures herself.
Enter EbayEd…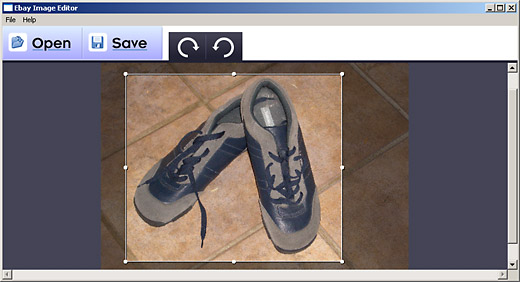 My solution was to write a small application designed specifically for cropping, scaling, and saving photos for Ebay. It's designed for people who don't generally use computers (my Mum) and is cheaper than Photoshop (it's free). I was going for the 'less is more' approach to EbayEd so there are no complicated features, and there is nothing difficult to learn. You load an image, rotate if necessary, position and size the output frame, and hit save.
If you know what you're doing this isn't all that much harder to use than Photoshop but for the uninitiated it saves having to explain about image resizing, cropping, the difference between save and save for web, and the pros and cons of different image formats – and it's free (did I mention that?).
What used to take me 30 minutes now takes 3. I suspect it will take Mum a bit longer since she has to learn to use it, but once she gets the hang of things there'll be no stopping her.
Let me know what you think on Mastodon, or BlueSky (or Twitter X if you must).