Regulus is a free theme for WordPress.
If you like this then you can check out my Premium WordPress themes on Pro Theme Design.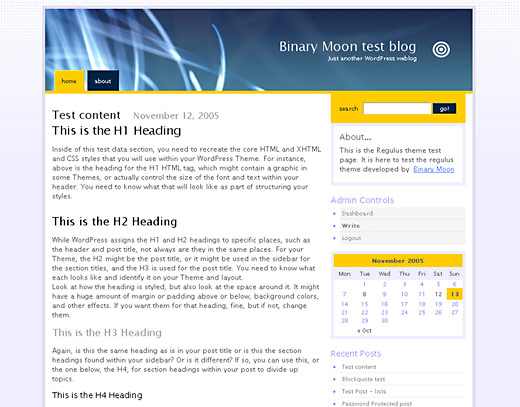 Download Regulus Theme for WordPress 2.0 +
Supported plugins
The plugins listed below can be used with Regulus simply by installing and running, no code modification needed (ok, only one plugin at the moment, but that might change)
Supported Languages
German translation
Italian translation by Lucacicca
Swedish translation by Sven Holmstram
French translation by Stephane Bardou
Russian Translation by Titov Anton
Other Stuff
Check out the Regulus category, to be kept up to date with the latest Regulus WordPress theme news.
More information can be found on the Regulus release post from the main blog.