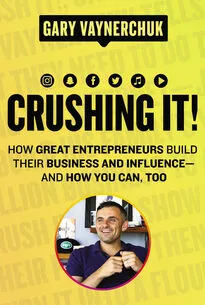 Author Gary Vaynerchuk
Disclosure: This post may include Amazon affiliate links. I may earn a commission if you make a purchase through these links. It comes at no extra cost to you. Thank you!
In "Crushing It!", author Gary Vaynerchuk explains how individuals can use social media platforms to build their personal brand and achieve success. He shares strategies and insights from successful entrepreneurs who have leveraged the power of social media to grow their businesses. Vaynerchuk emphasizes the importance of creating engaging content, building authentic relationships with followers, and embracing new technologies. This book serves as a guide for anyone looking to leverage social media to amplify their personal brand and achieve entrepreneurial success.
Key Points
The Power of Personal Branding: Building a strong personal brand is essential in today's digital age. Social media provides a platform for individuals to showcase their skills, expertise, and passions.
Authenticity is Key: Vaynerchuk stresses the importance of being genuine and true to oneself when using social media. Authenticity attracts loyal followers who connect with your message on a deeper level.
Creating Engaging Content: To stand out in the crowded online space, it is crucial to create high-quality content that captures attention and adds value to your audience's lives.
Leveraging Multiple Platforms: Different social media platforms offer unique opportunities for engagement and growth. Understanding each platform's strengths allows you to tailor your approach accordingly.
Building Relationships: Building authentic relationships with your audience is essential for sustained success on social media. Engage with your followers, respond to comments, and provide value through meaningful interactions.
Adapting to New Technologies: Embracing emerging technologies such as live video streaming or augmented reality can give you an edge in reaching new audiences and staying ahead of the curve.
About the Author
Gary Vaynerchuk is an entrepreneur, speaker, author, and internet personality known for his expertise in digital marketing and branding strategies. He successfully transformed his family wine business into a multimillion-dollar empire through innovative marketing tactics and social media engagement. Vaynerchuk is the CEO of VaynerMedia, a digital agency that helps brands leverage social media to drive business results. He is also a prolific content creator, sharing his insights and experiences on various platforms to inspire aspiring entrepreneurs worldwide.
I score this book 5 moons: 🌕🌕🌕🌕🌕