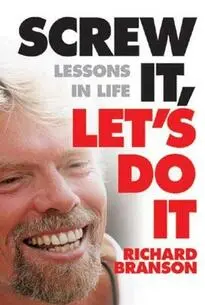 Author Richard Branson
Disclosure: This post may include Amazon affiliate links. I may earn a commission if you make a purchase through these links. It comes at no extra cost to you. Thank you!
In the book "Screw It, Let's Do It," Richard Branson shares his life experiences and offers valuable advice on how to achieve success. Branson believes that taking risks and embracing new opportunities are essential for personal and professional growth. Through his own journey, he encourages readers to have a positive mindset, be adaptable, and never give up on their dreams.
I have found the saying "Scren It, Just Do It" to be an important influence. I don't know if Branson was the first to say it, but in my mind he has popularized the phrase and I use if all the time now.
Key Points
Embrace Change: Branson emphasizes the importance of being open to change and willing to try new things. He believes that change brings opportunities for growth and innovation.

Take Calculated Risks: According to Branson, taking risks is necessary for achieving extraordinary results. He encourages readers to calculate the potential risks involved but not let fear hold them back from pursuing their goals.

Learn from Failures: Branson highlights the significance of learning from failures instead of dwelling on them. He shares stories of his own setbacks and explains how they ultimately led him to success by teaching him valuable lessons.

Follow Your Passion: The author stresses the importance of finding one's passion in life and turning it into a career or business venture. He believes that when people are passionate about what they do, they become more motivated, innovative, and successful.

Value People: Branson emphasizes the importance of building strong relationships with employees, customers, partners, and stakeholders. He believes that treating people with respect and valuing their contributions can lead to long-term success.
About the Author
Richard Branson is an entrepreneur, philanthropist, adventurer, and founder of Virgin Group—a multinational conglomerate comprising over 400 companies worldwide. With his bold approach to business and determination to challenge conventional norms, he has achieved remarkable success in various industries such as aviation, entertainment, telecommunications, transportation, finance, hospitality, health care, environment preservation initiatives—and beyond.
Branson's entrepreneurial spirit has made him one of the most influential and admired business figures of our time. He is known for his laid-back style, adventurous nature, and commitment to making a positive impact on society through initiatives like Virgin Unite, an organization dedicated to addressing global issues. Through his book "Screw It, Let's Do It," Branson shares his insights and experiences, inspiring readers to pursue their dreams fearlessly and embrace the opportunities that come their way.
I score this book 5 moons: 🌕🌕🌕🌕🌕