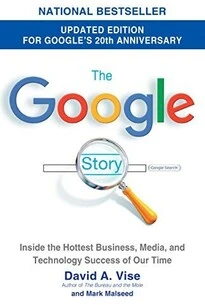 Author David A. Vise, Mark Malseed
Disclosure: This post may include Amazon affiliate links. I may earn a commission if you make a purchase through these links. It comes at no extra cost to you. Thank you!
"The Google Story" is a captivating book that delves into the fascinating history and growth of one of the most influential companies in the world: Google. Written by David A. Vise and Mark Malseed, this book takes readers on a journey through the origins of Google, its revolutionary search engine technology, and its transformation into a global tech powerhouse.
Key Points
The Origins: The story begins with Larry Page and Sergey Brin, two brilliant Stanford University students who shared a vision to organize the world's information and make it universally accessible. Starting in a small dorm room, they worked tirelessly to develop an innovative algorithm known as PageRank, which formed the foundation for Google's powerful search engine.
Rapid Growth: As Google gained traction, its user-friendly interface and accurate search results quickly attracted millions of users worldwide. The company's commitment to providing relevant information efficiently set it apart from other search engines at the time.
The Googolplex: With financial backing from investors like Andy Bechtolsheim and Kleiner Perkins Caufield & Byers, Google moved to its first office space – dubbed the "Googleplex" – in Mountain View, California. The company fostered a unique work environment that emphasized creativity, collaboration, and employee well-being.
Expanding Beyond Search: Recognizing opportunities beyond search advertising revenue alone, Google introduced several groundbreaking products such as Gmail (web-based email), AdWords (online advertising platform), and Android (mobile operating system). These innovations further solidified their dominance in various sectors of the tech industry.
Corporate Culture: The book explores how Google cultivated an unconventional corporate culture that encouraged employees to think big and take risks. Perks such as free gourmet meals, on-site gyms, and "20% time" – allowing employees to work on personal projects – contributed to their highly motivated workforce.
Challenges and Controversies: Despite its immense success, Google faced numerous challenges and controversies along the way. These included privacy concerns, copyright issues, and antitrust investigations. The book sheds light on how the company navigated these obstacles while staying true to its mission.
Innovation and Acquisitions: Google's commitment to innovation led to the acquisition of several companies, including YouTube, DoubleClick, Android Inc., and Nest Labs. These strategic acquisitions expanded Google's reach into video sharing, online advertising, mobile technology, and smart home devices.
About the Author
David A. Vise is an acclaimed journalist who has won numerous awards for his investigative reporting. He has written extensively about business and technology topics for The Washington Post. Mark Malseed is a writer with a background in journalism who has contributed to various publications including The Boston Globe and U.S. News & World Report.
Together, Vise and Malseed collaborated to provide readers with an engaging account of Google's rise to prominence in "The Google Story." Their meticulous research and interviews with key figures within the company offer valuable insights into the inner workings of one of the most influential tech giants in history.
I score this book 5 moons: 🌕🌕🌕🌕🌕