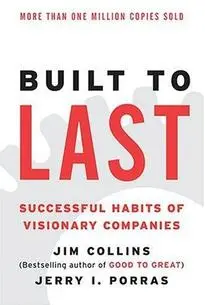 Author Jim Collins, Jerry I. Porras
Disclosure: This post may include Amazon affiliate links. I may earn a commission if you make a purchase through these links. It comes at no extra cost to you. Thank you!
Built to Last is a book written by Jim Collins and Jerry Porras that explores what sets visionary companies apart from their competitors. The authors conducted extensive research, analyzing 18 exceptional companies to uncover the underlying principles that make these organizations successful in the long-term.
Key Points
Visionary companies are those that have stood the test of time, consistently outperforming their competitors over several decades.
These companies possess a strong core ideology that remains constant while their business strategies and practices may change.
One key aspect of visionary companies is their ability to set audacious goals, known as "BHAGs" (Big Hairy Audacious Goals), which energize and motivate employees.
They prioritize building a culture of discipline, focusing on aligning people with the company's core values through hiring, training, and development.
Another characteristic of visionary companies is their commitment to preserving organizational DNA through effective succession planning and leadership development programs.
Unlike comparison companies with short-term focus, visionary companies embrace both continuity and change. They balance stability with innovation to adapt to evolving market conditions without losing sight of their core purpose.
About the Author
Jim Collins is an author, researcher, and consultant who has dedicated his career to studying what makes great companies tick. He has authored several bestselling books including Good to Great, Great by Choice, and How the Mighty Fall. His research-based approach provides valuable insights into business success factors.
Jerry Porras is a professor at Stanford University Graduate School of Business. He co-authored Built to Last with Jim Collins based on years of research examining exceptional organizations. Porras' expertise in organizational behavior contributes significantly to the book's content.
I score this book 5 moons: 🌕🌕🌕🌕🌕