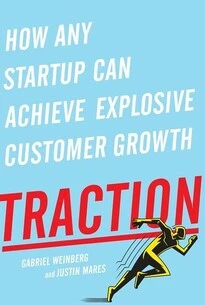 Author Gabriel Weinberg
Disclosure: This post may include Amazon affiliate links. I may earn a commission if you make a purchase through these links. It comes at no extra cost to you. Thank you!
"Traction" is a practical guide that helps entrepreneurs and business owners overcome the challenges of growing their start-ups. Written by Gabriel Weinberg and Justin Mares, this book emphasizes the importance of focusing on traction - the measurable growth of a company - as a crucial factor for success.
The authors present a framework consisting of 19 different traction channels, ranging from social media advertising to content marketing. They provide insights, case studies, and actionable advice to help readers identify which channels are most suitable for their businesses and how to effectively implement them.
Key Points
Traction is essential: The authors emphasize that having a great product or service is not enough; businesses need traction to succeed in today's competitive market.
The Bullseye Framework: Weinberg and Mares introduce the Bullseye Framework, which helps entrepreneurs systematically test different traction channels to find the most effective ones for their specific ventures.
19 Traction Channels: The book explores various traction channels such as viral marketing, public relations, search engine optimization (SEO), email marketing, offline events, and more.
Testing and Iteration: The authors highlight the importance of testing multiple channels simultaneously while tracking metrics and iterating based on results.
Case Studies: Throughout the book, numerous real-world case studies illustrate how different companies have successfully utilized specific traction channels.
Avoiding Common Mistakes: "Traction" also addresses common mistakes made when pursuing growth strategies and offers guidance on how to avoid them.
About the author
Gabriel Weinberg is an entrepreneur with experience in building successful startups such as DuckDuckGo (a privacy-focused search engine). Justin Mares co-authored this book while working as director of revenue at Exceptional Cloud Services. Both authors draw upon their entrepreneurial experiences to provide valuable insights into achieving traction for start-ups.
I score this book 5 moons: 🌕🌕🌕🌕🌕