The Boat That Rocked is Richard Curtis (4 Weddings and a Funeral, Notting Hill) latest film – and it's so much better than I had imagined it would be.
I'm not sure why I'm surprised, Richard Curtis films are always funny and feel good, but the trailer for the film left me feeling cold. It looked like the movie focused on Rhys Ifans character, who seemed rather dislikeable, it also seemed to have a much more serious tone – which couldn't be further from the truth.
Set in 1966 the story revolves around a boat that rocks in more ways than one. The boat is known as Radio Rock and is loosely based on a real life ship called Radio Caroline and is home to a pirate radio station, one of the first places to do anything of the kind.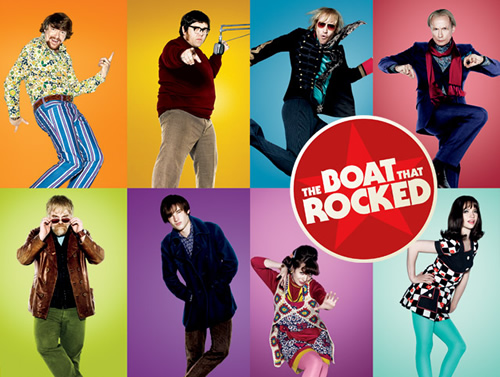 Like all of Curtis films the cast is stuffed full of British acting and comedic talent that will likely go unrecognised by almost everyone outside the UK. Many will recognise Rhys Iffans from films like Notting Hill and the 51st State, but people like Nick Frost, and Chris O'Dowd I suspect are less well known. There is a token foreigner in the shape of Philip Seymour Hoffman who plays 'The Count' admirably.
All films need conflict of some sort and in this one it's the introduction of a miserable politician who wants to shut down Pirate Radio Stations. Played by Kenneth Brannagh and loosely based upon Tony Benn, he is a scumbag who wants to remove all the fun from the world… and fails spectacularly in the process.
The tone of the film is a touch darker than Curtis normally goes for, and the jokes are often drier, but there is nearly always a laugh out loud moment near by to make up for the more sombre parts.
Since this is my third iTunes review I'm not sure if it's worth mentioning the quality. It all looks and sounds as fantastic as anything else on the iPod. This is the first film I have downloaded for the iPod Touch – the others came preloaded when it was sent to me, so I was surprised at the size of the file (around 2 gig).
I believe The Boat That Rocked did less well than hoped at the box office, which I would put down to the trailer, but having now watched it I would urge everyone to give it a chance – especially if you enjoy Curtis other films.
Oh – and Hugh Grant is nowhere to be seen – which makes a refreshing change!
Let me know what you think on Mastodon, or BlueSky (or Twitter X if you must).