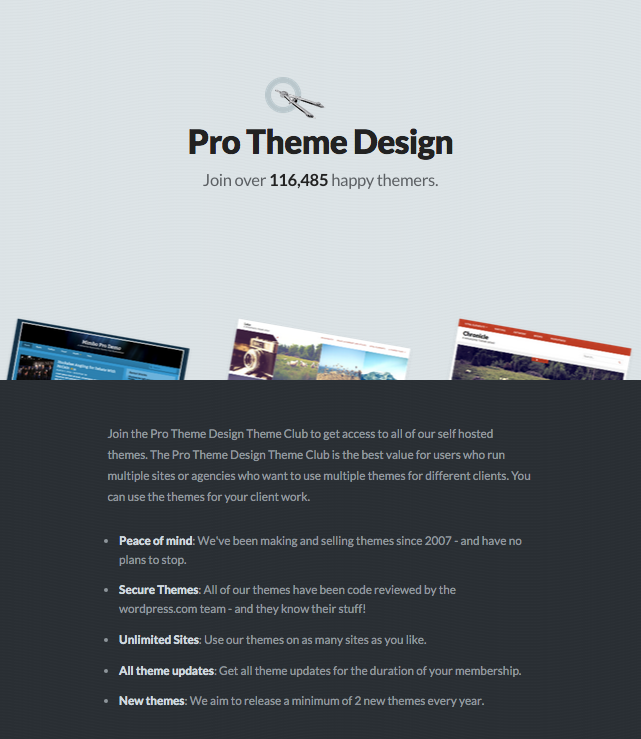 Recently I showed the research I did into other WordPress theme shops and their theme clubs – and now I've released the Pro Theme Design Theme Club.
The club is an easy way for people to purchase all of our themes, and theme updates – now and forever (or at least until the subscription expires).
Since I know not everyone likes subscription products I have also published the All Themes Bundle on Creative Market. This is a collection of all of our Creative Market themes that, like the Themes Club, is going to be updated as and when themes are released/ changed.
Why So Much?
If you clicked the link above – then you'll have noticed that our pricing is on the higher end of the scale. There are a few reasons for this.
I feel that since our themes have been reviewed by the wordpress.com team that they are of a guaranteed higher quality than many other themes.
I want to be fairly rewarded for the time and effort I put into developing and maintaining these themes.
I don't want to join the "race to the bottom".
Coupon?
I published this in the Pro Theme Design newsletter last week – but I have a coupon to save some money on the subscription fee for the Pro Theme Design Theme Club. Just enter the coupon code 'tc25' during checkout and you will save 25% of the cost of the Theme Club subscription for as long as you are a subscriber.
Let me know what you think on Mastodon, or BlueSky (or Twitter X if you must).