The other day, I mentioned that I am using AI to help with my blogging. But it's not what you might think. The AI isn't writing the posts in their entirety. I still want the content to reflect my own thoughts and ideas.
One of the reasons I stopped blogging so much was due to a condition known as "blank page syndrome." As someone who lacks confidence in their writing abilities, starting a new blog post became a daunting task. I enjoy sharing my thoughts and ideas, but I struggle to put them into words.
To overcome this, I made a simple app that allows me to add a title and an outline for each post. The AI then takes this information and generates the first draft.
This process is basically the concept of the "Shitty First Draft". The suggestion is that in order to produce great writing, one must first create something that is not so good. I am using AI to generate the initial draft that serves as a starting point.
My outlines tend to be fairly complete, but not well-written. This is where the AI comes in handy—it helps improve upon what I can do myself. However, it doesn't write exactly like me, so it's important for me to review and edit the draft to ensure it sounds like something I would say - and more importantly says what I want it to say.
After all, once the blog post is published, it has my name on it. So even if I didn't physically write every word, it represents my thoughts and opinions. Therefore, it's crucial for me to make sure that I agree with what is written.
For transparency, here is a screenshot of the outline for this blog before it was turned into the first draft: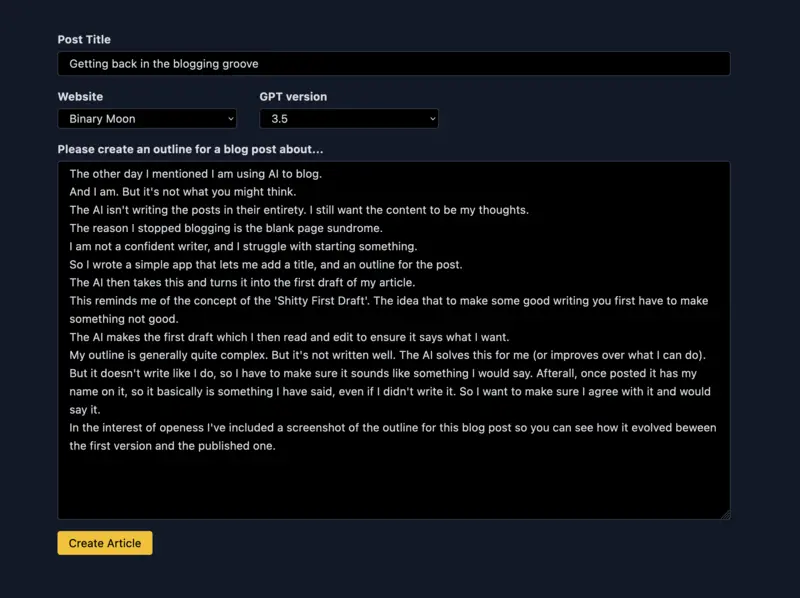 By using AI as an aid rather than relying solely on its output, I have found a way to get back into the groove of blogging while still retaining ownership over my content. It has become a valuable tool in my writing process, helping me overcome the initial hurdle of starting a blog post and allowing me to focus more on refining my thoughts.
The most important thing is that my blog reflects my thoughts and ideas, regardless of the assistance I receive along the way. Without this process I wouldn't have started blogging again.
Let me know what you think on Mastodon, or BlueSky (or Twitter X if you must).