I'm a lucky person. Last year work took me to Estonia for our Christmas do. This year it was Istanbul, Turkey.
Unfortunately I have been really busy these last few weeks so this post is a little delayed.
We had a couple of great guides in the form of a colleague (and all round great bloke) and his wife – Thorsten, and Nilli; and I want to say how much I enjoyed my stay out there and how grateful I am that they showed us around. It wouldn't have been as good without them!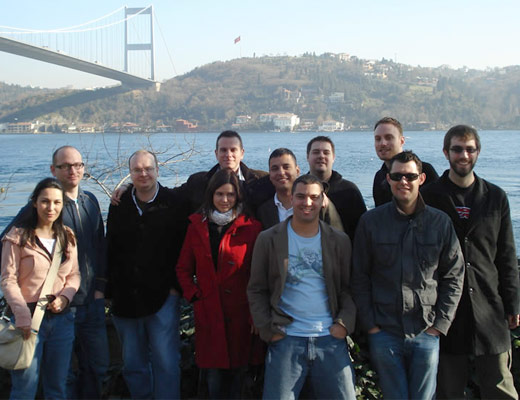 We spent the weekend touring Istanbul and got a general feel for the different aspects of the city. We had a lot of wonderful meals (the Turkish REALLY like to eat) and even a drink or two. We went to a club (or three) and saw live Salsa music, went on a boat trip along the Bosphorus, saw a fort that was built in 4 months, and had a very nice breakfast in a palace.

To me Istanbul felt very European which is not what I had imagined, and we had been told to take warm clothes but I found I didn't need them since it was hotter than expected as well (I don't feel the cold much which may have helped). The people there seemed very nice and went out of their way to help us, which was all very good as well.
All in all I had a great time, and want to thank Miniclip for taking me (us), and Thorsten and Nilli for organising the lovely weekend.
Thanks a lot guys!
Let me know what you think on Mastodon, or BlueSky (or Twitter X if you must).