Finally – an update to Regulus. The updates are coming further and further apart, and this is simply because the theme does everything I set out to do… and quite a bit more. This version is mostly bug fixes but there are a couple of nice new features.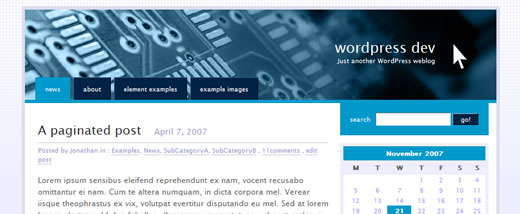 Additions
The banner image is now a link, meaning you can click it to go to your homepage. You can also change this link to point anywhere you like, which is good for those of you who use WordPress as a blog and something else for the rest of your website.
You can also now change the text for the home link in the tabbed navigation. The main reason for this is for people who use the static homepage feature of wordpress, but it's also nice to be able to customise things that little bit more.
Finally there are a few new colour schemes – nothing earth shattering but I think they look good and are a nice way to liven up your website.
Support for tags (available in wordpress 2.3). It's not particularly advanced but it does add them in case you want to make use of them.
Waiting
I actually finished this a couple of weeks ago, and have been trying to get the folks over at wordpress.com to update it there so that both versions were in sync. Unfortunately they've been a little slow so it's not updated there, so I decided to release it anyway. Hopefully it's not too much longer before it's all working.
Go get it!
Regulus Live Preview on Binary Moon
Let me know what you think on Mastodon, or BlueSky (or Twitter X if you must).