Before Christmas last year Darren asked me if I wanted to work with him to update Mimbo Pro 3. The theme was first released more than 4 years ago – and it's done fantastically well. As one of the first premium magazine themes we led the way – creating innovations like TimThumb, and the post carousel – both now incredibly common features. So we got together and we've now released Mimbo Pro 3 for all to use.
It was actually because of working on Mimbo Pro 3 again that I decided to start looking at Elemental and updating theme frameworks.
Our core idea with updating the theme was to put a lot of emphasis on using core WordPress functionality out of the box. We wanted to make the best use of WordPress that we could. This meant properly integrating the WordPress custom navigation, the custom headers, and the custom backgrounds. We have also even stopped using TimThumb and started using the built in post thumbnail functionality!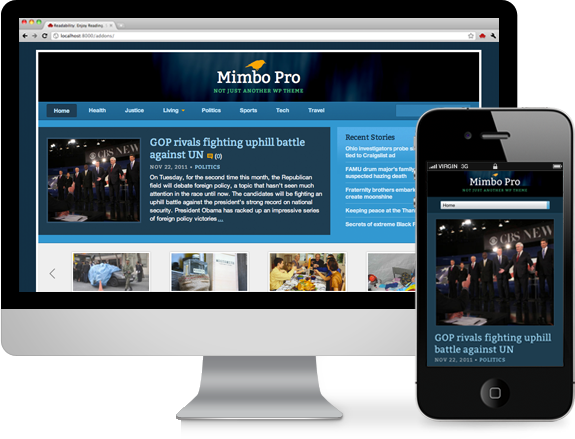 No More TimThumb?
Well – no – not exactly. I am still using and maintaining TimThumb, but for Mimbo Pro we felt that the use of the post thumbnail feature was much simpler from a users point of view. No need to worry about getting different server configurations to work properly, no need to worry about security (at least not related to image thumbnails), and faster image serving.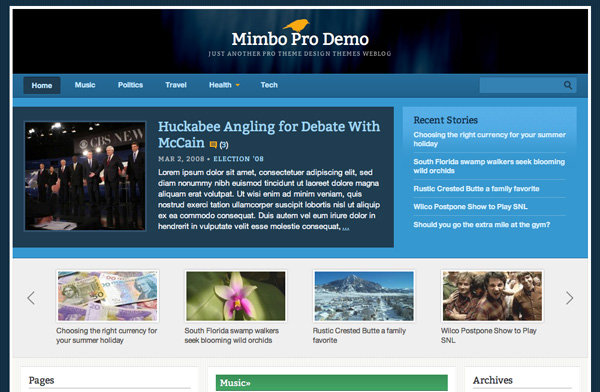 Other Functionality
So, besides the built in functionality, there were a few other improvements to the already well tested theme. Having worked on Mimbo Pro for over 4 years – it's had a lot of tweaks and improvements which has made it really solid, covering all the most common user requests. Now it has the following features to add to it's feature list:
Responsive design for mobile devices
Web fonts via Font Squirrel
CSS3 enhancements for navigation, colors, gradients
Semantic HTML 5 markup
Much improved breadcrumbs (the code was actually taken from Elemental)
Improvements to Custom WP Menus
"Related Posts" widget uses WP categories, instead of tags (does anyone really use tags these days?)
Mimbo Pro 3 is free to existing customers however I do want to note that it's not a drop in replacement. If you've got a Mimbo Pro 2 child theme going on, then it will likely break with the update – and this is the main reason for the full version number bump.
Let me know what you think on Mastodon, or BlueSky (or Twitter X if you must).