Anyone been in a situation where you needed to charge your smartphone but didn't have the right cable to hand? I know I have. I travel a lot – and making sure I always have my iPhone cable with me is a bit of a pain. Plus it gets lost in my bag. It's just a bit awkward. What would be lovely is a small device I can put on my keyring so that I have it with me always.
I was recently sent a Nomad Chargekey to review – and it solves all the problems I describe above. In short it's a really nice little gadget.
I've now had 2 Chargekeys – the bit that joins onto the keyring broke on my first one after a week, but the second is holding up well. Plus Nomad are releasing a v2 that has a steel reinforced keyring hook which should solve that issue once and for all (due to ship November 29th).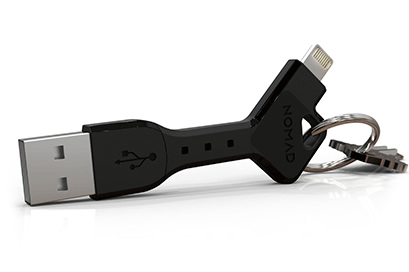 If you're not an iPhone user then they have a mini usb charger for other smartphone types. They also have a couple of alternate form factors, credit card and carabiner shaped, but they all do the same job, and personally I think the keyring is most practical.
If I were to buy one of these then I would stick with what I have – although I'd wait a month or two and get the stronger v2.
One interesting thing I hadn't really considered before is that I can use any powered usb port to charge my phone – for example all modern televisions have usb ports, as do stereos, and games consoles, and all sorts of other devices. So you're nearly always within reach.
You can buy a Nomad Chargekey on Amazon – or preorder the updated NomadKey on the HelloNomad site.
Let me know what you think on Mastodon, or BlueSky (or Twitter X if you must).