This is rather late now but I really wanted to say something. I mentioned before that I had seen the new Teenage Mutant Ninja Turtles film (actually called TMNT) and I'm pleased to say it was absolutely great.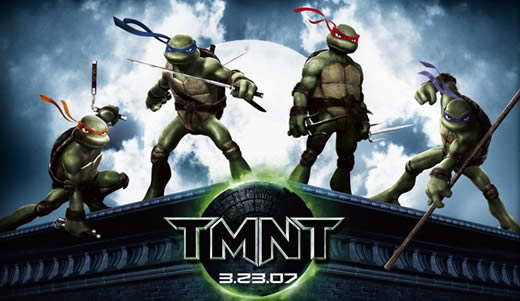 I went to see the film on a weekday, and it was mostly younger children in the audience. I went with my girlfriend who very kindly puts up with my childish tendencies. I loved the film but she was very clearly bored – so Jo – thanks for putting up with me, and sorry for taking you to see the film.
The story itself picks up a few years after the Ninja Turtles movies, cartoons and everything else. Shredder has been removed, and the turtles are now at a loose end. They are all doing different things to pass the time but mostly they have simply lost their way. Then some evil dudes come along and try to bring about an apocalypse, and the turtles have to save the day.
The story is nice and simple, but it is so full of fun and silly humour that I was in a mini Ninja Turtle heaven.
I was really surprised by the animation. Whilst the film didn't have the cleanliness or polish of a Pixar movie, it was full of charm and had a unique style of it's own. It was very much a comic book/ cartoon brought to life, and I was really pleased.
Naturally the film has been left open for a sequel; I suspect it won't get one (but really hope it does) since it had only been out a couple of weeks when I saw it and it had already been relegated to a single showing a day.
It was very nice to feel like a child again for a few hours, and I really enjoyed the movie. It's not for everyone but if you have fond memories of the Turtles then I would definitely recommend getting the dvd when it's released… or at least renting it. You won't regret it!
Let me know what you think on Mastodon, or BlueSky (or Twitter X if you must).